| Jul 29,2022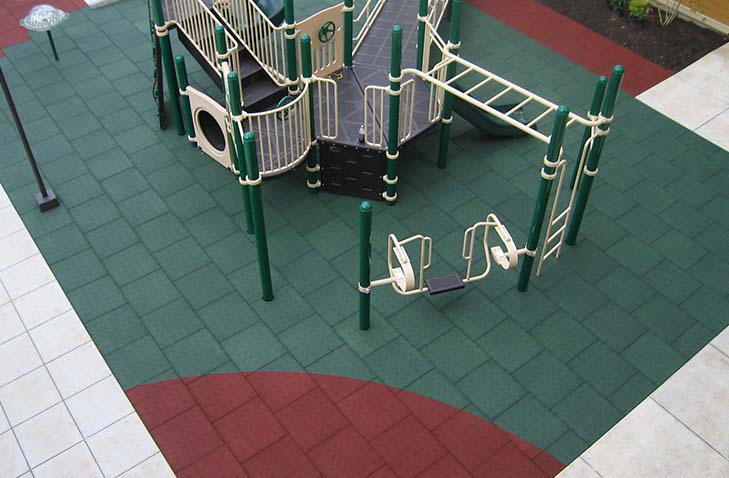 Dinoflex is passionate about creating sustainable and safe surfacing for every space. PlayTiles® surfacing solution is our answer to creating a safe outdoor space to let kids be kids.
Safety, Fall-Height Protection
Each year, emergency rooms in the United States treat an average of 21,000 head injuries for children 14 and under, making surfacing a critical consideration in playground design. Dinoflex PlayTiles® are designed to reduce injuries from falls so kids can run, jump, play, and just be themselves on playgrounds.
We have the science to back it up. The ASTM is a global standards-creating organization that helps increase consumer confidence. Dinoflex PlayTiles® are specifically designed to reduce injuries from falls under the guidelines set out under the ASTM F1292, which are specific to playground surfacing. Our 24" x 24" tiles are available in thicknesses of 1 ½" and 2 ¼", offering fall height protection from 4' and 6'. Adding our Dinofall System made from 100% recycled, non-contaminated post-industrial cross-linked closed cell polyethylene extends the protection to up to 12'. Unlike pour-in-place surfacing, which is tested on site, our fall height testing is performed in a lab, ensuring consistency between every Dinoflex PlayTile®.
Safe and Durable to Crawl, Walk, Run, or Roll on in Any Type of Weather
At Dinoflex, we believe in making play accessible. Our Play Tiles can be used to create a playground with a fully accessible surface – including ADA compliant ramps. Our ramps comply with Americans with Disabilities Act of 1990 (ADA) standards, which prohibit "discrimination against people with disabilities in several areas," enabling children of all abilities to participate in play on our surfacing.
Kids can crawl, walk, run, or roll on our PlayTiles® – and you won't have to worry about them finding dangerous items like those potentially hiding in sand and mulch. Our molded tiles create a solid surface, providing a visible environment for impurities and hazards while adding another layer of safety.
Our PlayTiles® also help kids stay active in virtually any type of weather. Water is no match for our water permeable tiles, which provide a dryer surface to play on sooner after a rainstorm vs sand or mulch. When it's raining, PlayTiles® offer high traction to prevent the risk of slips and falls, creating a safe space for play. They can even be installed year-round, unlike pour-in-place surfacing. Spring, summer, winter, and fall – Dinoflex PlayTiles® are tough enough to handle it all!
A Sustainable Solution
Dinoflex believes we have a commitment to future generations to protect the planet and to provide kids with a safe place to play. Our PlayTiles® are a sustainable surfacing solution and accomplish both objectives. Our surfacing is made from recycled rubber tires, keeping them out of landfills and repurposing them into tiles to promote active play. When they have reached their end of use, they can be returned to Dinoflex, where they will be ground up again and reused in a continuous, sustainable cycle. You won't need to return them anytime soon, however; Dinoflex's rubberized flooring products are long-lasting and backed by a 10-year limited warranty. Unlike sand and mulch, they don't need to be routinely topped up, making them sustainable on your pocketbook, too. If a tile gets damaged, you only need to replace a single tile - not the entire surface as you would with pour-in-place surfacing, further boosting its sustainability. When you choose our LEED credit qualifying playground tiles for your design project, you are helping protect our planet as well.
Versatile
Dinoflex PlayTiles® are not only a superior surfacing solution for playgrounds at parks and schools. Our outdoor rubber surfacing is also ideal for climbing walls, community centers, daycares, indoor play areas, recreation centers, preschools, backyards, and more. If you need surfacing for an outdoor project, there's a good chance our PlayTiles® will meet – and exceed – your needs. With a variety of color choices, you're sure to find an option to also align with your aesthetic vision.
Dinoflex's PlayTiles® create a safe place to let kids be kids. If you're looking for durable, beautiful surfacing and a way to help protect children, too, contact us today!