| May 03,2023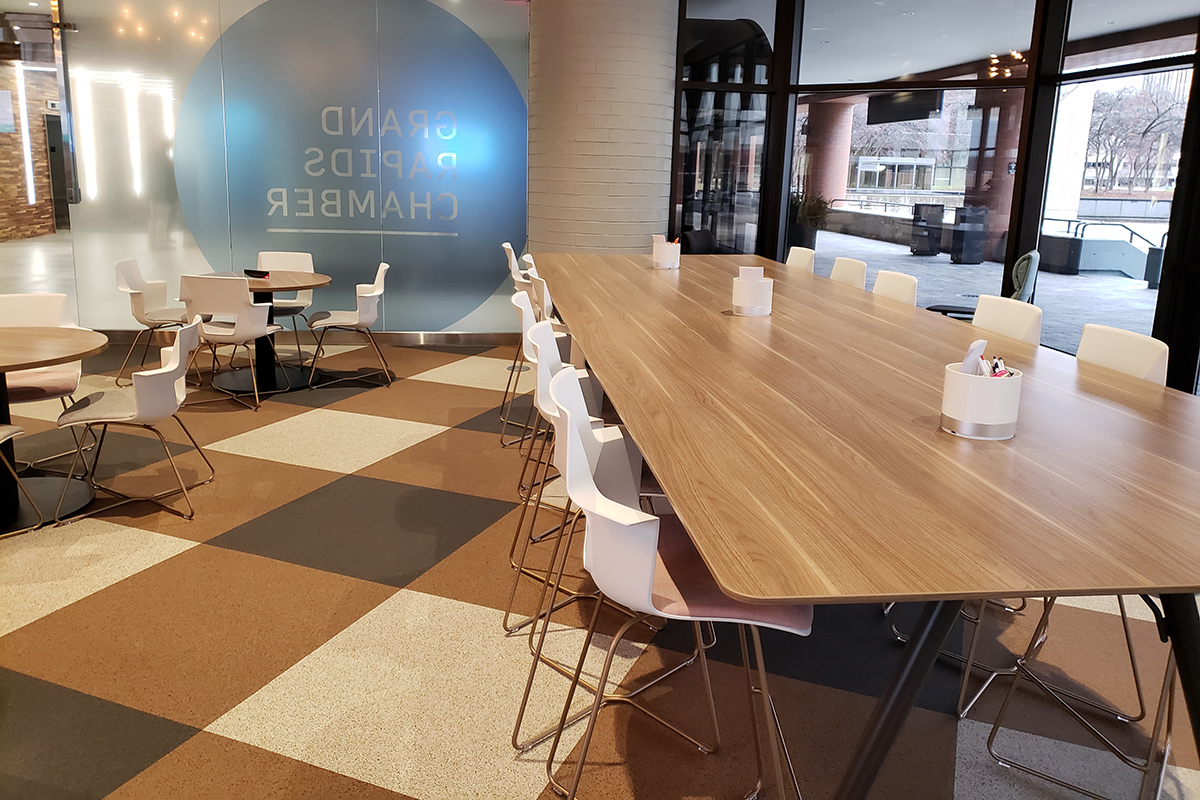 When it comes to creating a productive and comfortable learning environment, Architects and Designers are well aware of the importance of choosing the right flooring for public facilities. In spaces like study centers, libraries, and auditoriums, the flooring should meet specific requirements to ensure that it supports learning and is functional for the space.
Here are four key requirements they consider when selecting flooring for these types of spaces:
Colors that stimulate concentration
Color can have a significant impact on our mood, productivity, and concentration. In spaces like study centers and libraries, it's important to choose colors that stimulate concentration and focus. Shades of blue or green, for example, are known to be calming and promote focus, making them ideal for study spaces.
A 2021 study done by Tikrit Journal of Engineering Sciences "The Impact Of Colour On Students' Perception In Learning Spaces"1 found that cooler colors like white, blue and green colors were associated with increased focus and attention. Participants in the study who were exposed to white, blue and green colors performed better on a visual attention task than those who were exposed to red or yellow colors.
The results show cool colors like white, green and blue are most often recommended for educational spaces. These colors affected positively the perception of respondents and added feelings of hope, curiosity and satisfaction to the group.
The findings demonstrate colors in the environment play an important effect on student's perception. The study concluded that colors affect the behavior, performance and mood of the space users.
1 Baper, S. Y., Husein, H. A. ., & Salim, S. S. . (2021). THE IMPACT OF COLOUR ON STUDENTS' PERCEPTION IN LEARNING SPACES. Tikrit Journal of Engineering Sciences, 28(2), 33–43. https://doi.org/10.25130/tjes.28.2.03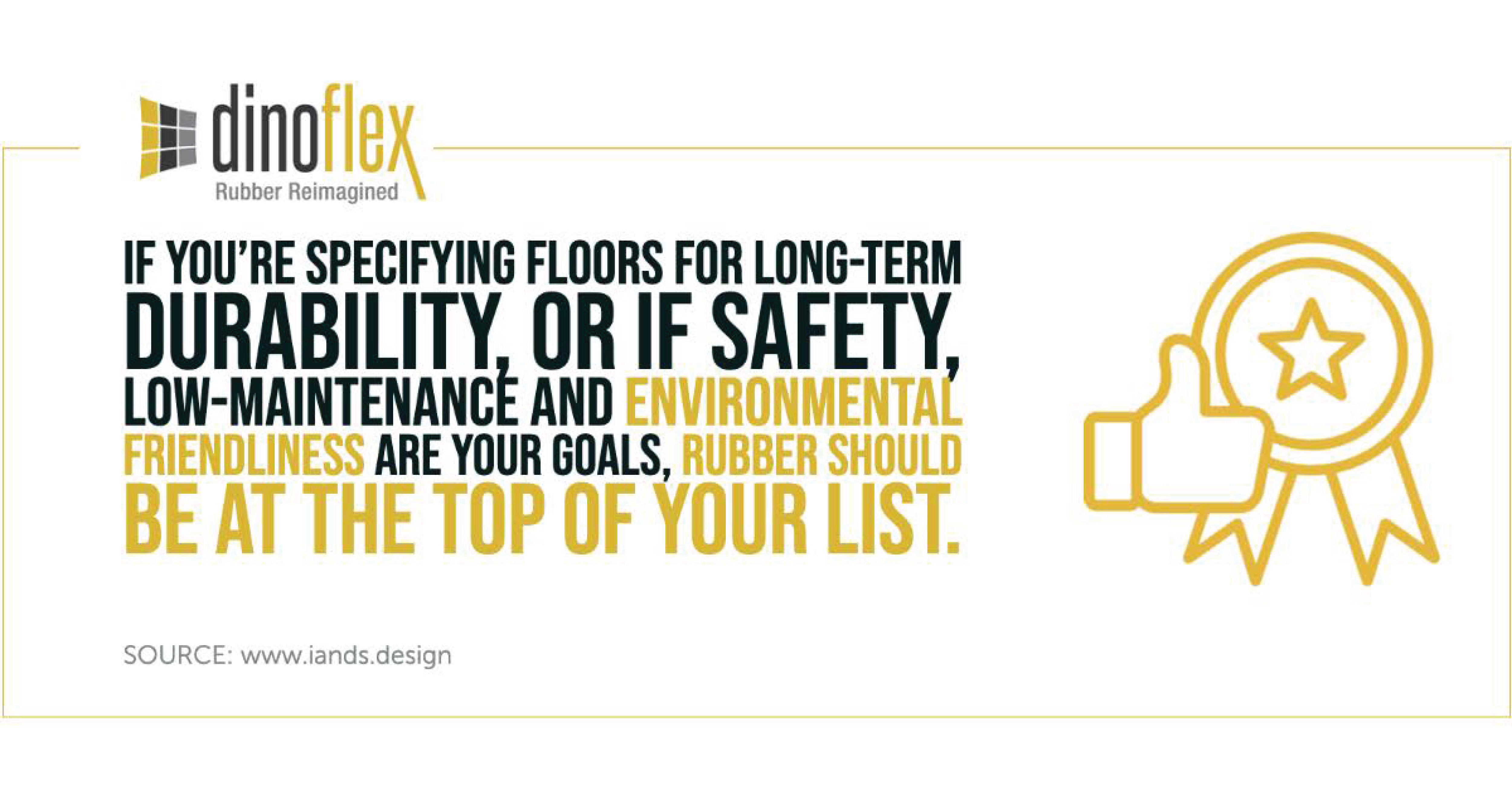 The vast color possibilities are unlike any other flooring options which is just one of the factors that make rubber flooring an excellent choice for study spaces.
Sound reduction
The library has traditionally been associated with silence and quiet. Previously there was a relatively limited number of functions in them like studying, reading and storing books and their architecture itself was designed to encourage silence.
Modern public libraries tend to be geared towards more vibrant environments (e.g., audio-visual materials and media formats), which go beyond the simple function of reading books.
Over the years, individual involvement has shifted to collaborative and social activities (cafés, meeting rooms), corresponding to different room layouts, furniture, and acoustic treatments. In libraries, the proliferation of new activities has inevitably resulted in different types of sound sources and sounds, which requires architects and interior designers to rethink how to improve the overall experience by managing the acoustic environment in a proactive way instead of just achieving silence in these spaces.
It is particularly difficult to control the sounds of various human activities and speech in large open plan areas that combine multiple functions and modern architectural forms. There are many instances where acoustic consultants recommend solid separations between different functions to minimize aural influences. However, this approach often conflicts with open-plan design.
It has become more common for people to use libraries for other purposes than reading, including attending exhibitions, activities for children, meeting friends and eating lunch. The continuous sound of dragging chairs as people slide in to sit down and then get up can be a big problem in a large facility.
A study called "A soundscape approach to exploring design strategies for acoustic comfort in modern public libraries"2 provides context and possible solutions to the acoustic challenges of modern libraries.

xss="removed">
Sound reduction is a critical requirement for any space where people will be working or learning. Hard surfaces like concrete or tile can reflect sound and create a noisy environment, which can be distracting and make it difficult to concentrate. Flooring materials that absorb sound, such as carpet or rubber, are a better choice for spaces like study centers, libraries, and auditoriums.
2 Xiao, Jieling and Aletta, Francesco. "A soundscape approach to exploring design strategies for acoustic comfort in modern public libraries: a case study of the Library of Birmingham" Noise Mapping, vol. 3, no. 1, 2016. https://doi.org/10.25130/tjes.28.2.03
Indoor air quality
Indoor air quality is an important consideration for any space where people will be spending time. Flooring materials can release volatile organic compounds (VOCs) that can contribute to poor indoor air quality. Choosing a flooring material that is low in volatile organic compounds (VOCs), such as rubber or cork, can help improve indoor air quality and create a healthier environment for students and staff. In an article called "Controlling Pollutants and Sources: Indoor Air Quality Design Tools for Schools" from the EPA provides more information on indoor air quality and flooring.
Resistance to heavy foot traffic
Finally, a durable flooring material that can withstand a lot of foot traffic is essential for study centers, libraries, and auditoriums. These spaces see a lot of use, and a flooring material that can't handle the traffic can quickly wear down and become damaged. Materials like rubber or carpet tiles are designed to withstand heavy traffic and can provide long-lasting durability in these types of spaces. This article from Construction Canada provides more information on the benefits of rubber flooring for high-traffic areas.
When selecting flooring for study centers, libraries, and auditoriums, it's important to consider a range of requirements to ensure the flooring is functional and supports learning. Choosing colors that stimulate concentration, selecting a material to reduce sound, improving indoor air quality, and choosing a durable material that can withstand traffic are all important considerations. By keeping these requirements in mind, you can create a learning environment that is both comfortable and conducive to learning.
Why Nature's Collection Rubber Flooring is a Great Choice for Libraries
Libraries are a crucial part of our communities, and they provide an essential service for many people. Libraries are a place where people can come to learn, read, and explore the world around them. For this reason, it's important to create a safe and comfortable environment for library users.
Dinoflex is a leading manufacturer of recycled rubber flooring and our Nature's Collection is an excellent choice for libraries because it offers a wide range of important benefits. This beautiful collection offers a unique combination of functionality and aesthetic appeal.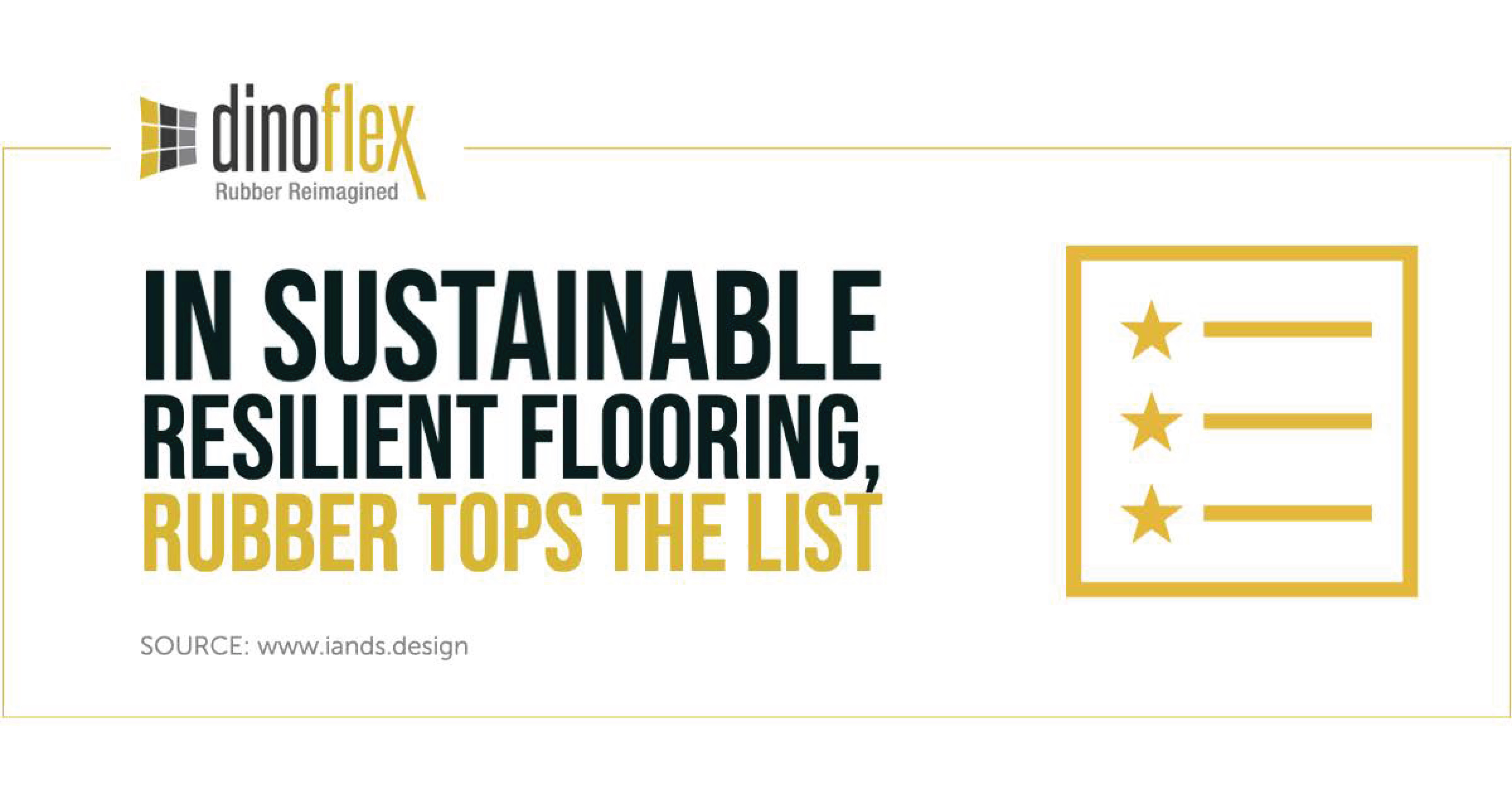 Durability and Longevity
Nature's Collection by Dinoflex can withstand high traffic and heavy use without showing wear and tear, making it an ideal choice for libraries.
With high-quality, sustainable ingredients, the flooring remains strong and performs for decades. With this floorcovering, a facility can save money in the long run and support the environment for years to come, while enjoying lasting appeal.
Aesthetics
The aesthetics of the Nature's Collection are one of its primary advantages. You get a product with superb performance and a visual dimension that isn't typically found with rubber surfaces, because it combines similar yet complementary characteristics.
This rubber flooring is sophisticated and elegant, combining the durability and versatility of recycled rubber with the beauty of sustainably harvested cork. Cork granules infused with recycled rubber contribute depth and texture to the surface, while the EPDM's vivid colors provide contrast, resulting in a striking, well-balanced design.
The natural look and feel of the flooring can create a warm and inviting atmosphere in the library, which can encourage users to spend more time in the space. The collection's designs can also be used to create distinctive zones or wayfinding in the library, which can help users navigate and find resources more easily.
Comfort
Nature's Collection provides excellent cushioning, making it comfortable to stand or walk on for extended periods. This feature is particularly useful in libraries, where users may spend long hours studying, reading, or working. The cushioning provided by the flooring can help reduce fatigue and improve overall comfort.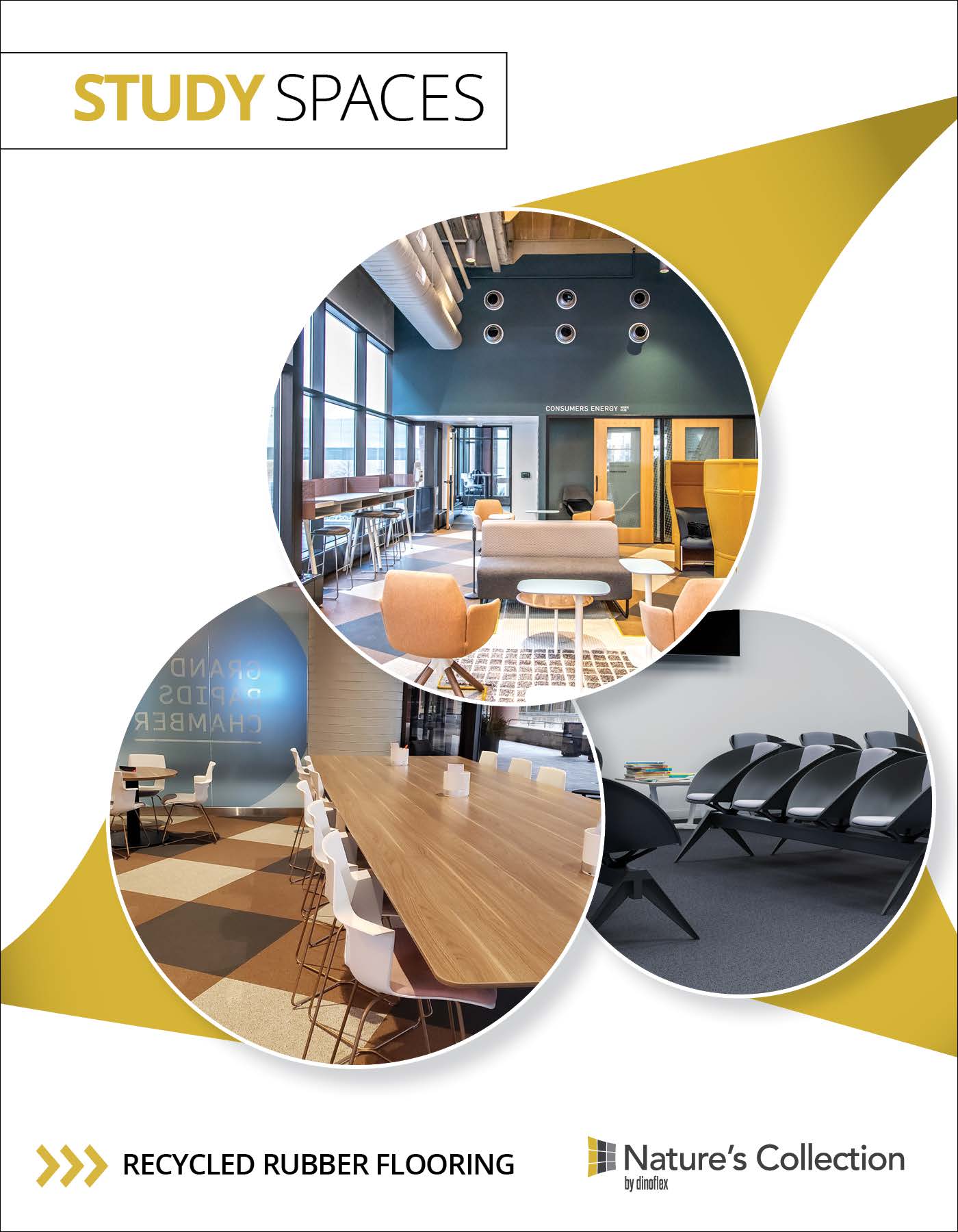 Safety
Safety is always a top priority in public spaces like libraries. Nature's Collection is slip-resistant, which can help reduce fall consequences, especially in areas prone to spills. Additionally, the collection's cushioning properties can help reduce the impact of falls, which can make it a safer choice for libraries.
Sustainability
Nature's Collection is an eco-friendly choice, which is made from recycled rubber and sustainably harvested cork granules.
The use of materials helps to reduce the environmental impact of the production process and can contribute to a more sustainable library.
Easy Maintenance
When foot traffic brings with it mud, snow, and other substances, rubber flooring's simplified cleaning requirements are most beneficial during the cold winter months. Cleaning these substances is easy and quick with rubber flooring.
Conclusion
The collection's unique combination of functionality and aesthetic appeal can create a welcoming and safe environment for study centers, libraries, and auditoriums. If you are looking for a flooring solution for your library, Nature's Collection by Dinoflex is definitely worth considering.
Other Sources:
Mehta, R., & Zhu, R. (2009). Blue or red? Exploring the effect of color on cognitive task performances. Science, 323(5918), 1226-1229.
Shield, B., & Dockrell, J. (2004). The effects of environmental and classroom noise on the academic attainments of primary school children. The Journal the Acoustical Society of America, 115(4), 1664-1670.
Wang, Y., Yao, J., Li, X., Li, X., & Li, N. (2017). Study on the Impact of Floor Materials on Indoor Air Quality. Indoor and Built Environment, 26(2), 310-318.
"If you're specifying floors for long-term durability, or if safety, low-maintenance and environmental friendliness are your goals, rubber should be at the top of your list." - Quote Source – "Rubber Flooring: Value and Beauty for the Long Term"
"In Sustainable Resilient Flooring, Rubber Tops the List" Quote Source