| Sep 16,2022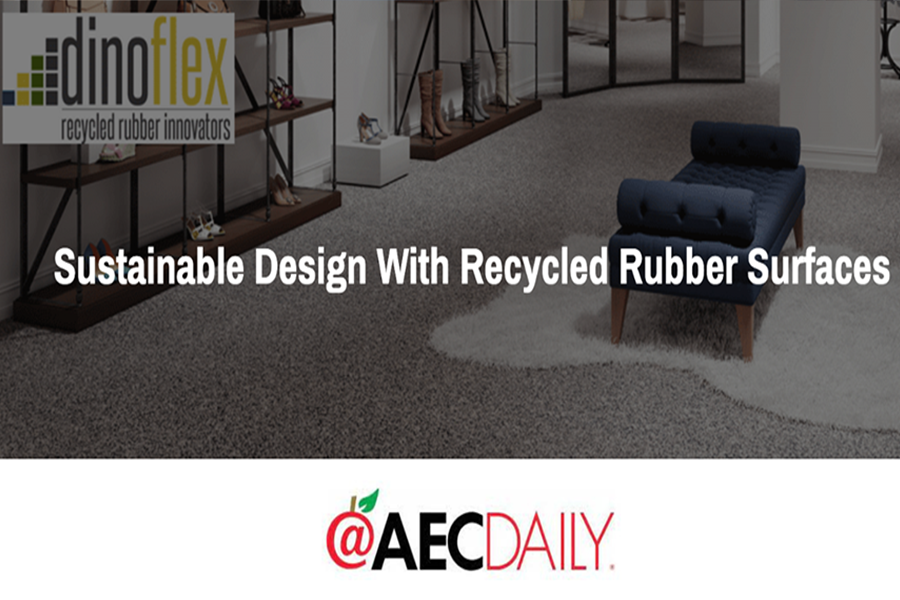 Dinoflex's AEC Daily CEU accredited program includes discussions on rubber manufacturing, green building certification programs, and more. Click the photo to sign up!
Dinoflex was founded in 1989 on the principal of environmental stewardship. Since then, we have been resolutely committed to the environment and to reducing our impact on it. Some AEC community members believe recycled rubber flooring cannot contribute to creating green spaces – but that couldn't be further from the truth; rubber is both highly sustainable and easily recyclable. Dinoflex is dedicated to creating sustainable construction materials, which is why we proudly meet all rigorous industry standards associated with Health Product Declaration (HPD), Environmental Product Declaration (EPD), and FloorScore®.
LEED® Certification
Dinoflex creates its indoor and outdoor surfaces by using post-consumer recycled rubber. To construct our rubber floors, Dinoflex purchases SBR graduals made from recycled commercial truck tires that were destined for the landfill and repurposes them into LEED® credit qualifying sustainable solutions, which is made possible in part by our memberships with the Canada Green Building Council and U.S. Green Building Council. Our products are environmentally friendly, exceptionally durable, shock absorbent, slip resistant, stain resistant, and long lasting, helping to keep them out of landfills longer. When they've reached their end of use, Dinoflex breathes new life into its products by regrinding them and reusing them in an ongoing sustainable cycle.
What is FloorScore®?
Improving indoor air quality in the flooring industry is directly correlated with reducing emission levels created by specific volatile organic compounds (VOCs). FloorScore® has been touted as "the most recognized indoor air quality (IAQ) certification standard for hard surface flooring materials, adhesives, and underlayments." FloorScore® helps identify sustainable, environmentally friendly materials and products that contribute to healthier air and, in turn, healthier people. All Dinoflex's highly sustainable and easily recyclable rubber flooring is FloorScore® certified. Our customers can breathe easy knowing the Dinoflex products they choose help contribute to a greener world.
Health Product Declaration
Health Product Declaration (HPD) uses standardized reporting to provide crucial information regarding how products can impact human health and wellness – including disclaimers on potential risks associated with each product component. Providing a breakdown of chemicals and other potentially hazardous ingredients and products increases consumer confidence in the products they purchase. By achieving our HPD, Dinoflex demonstrates our commitment to transparency of information and building health.
Environmental Product Declaration
EPDs documents the lifecycle of a product from an environmental impact standpoint by transparently reporting on objective and comparable third-party verified environmental data. Based on international standards, they consider the complete life cycle of goods and services. Dinoflex's believes in transparent communication regarding the long-term impact of our rubber flooring. Our EPD certification is a testament to our commitment to both safety and robust environmental standards.
Jim Pattison Centre of Excellence in Sustainable Building Technologies and Renewable Energy Conservation
Dinoflex was proud to be part of one of the world's most innovative and sustainable buildings: the Jim Pattison Centre of Excellence in Sustainable Building Technologies and Renewable Energy Conservation. This project is a shining example of our dedication to sustainable materials and practices. To learn more about this LEED® Platinum certified building and our involvement in the project, visit our case study.